News: Daily Prize Revamp
Old News Post
You are currently viewing an older news post. Click
here
to view the most recent news post.
September 12: DarkArticuno

DarkArticuno has finally appeared once more, at
Icebound Cave
! It will remain for
1 month
. There is also a new undiscovered SML. Thanks to
btaayc
for making this happen!
September 12: ShinyRetroJirachi

ShinyRetroJirachi is now available on
Mirage Ruins
, thanks to
LanzyQ
!
September 9: Event Conclusion

The Bring Back the Summer event has now come to an end. We hope everybody had a great time working together to achieve the sitewide goals!
You will be able to find the finalized prize earnings in
this spreadsheet
. Be sure to PM Robin in-game or DM him on Discord (Robin#6939) in regards to any Seillib-related prize requests. For anybody who has won Shadow Seillib prizes, you're able to create trades directly to
Shadow Seillib
. You will have until
September 17th
to claim your prizes.
In the spreadsheet, you will see different tabs at the
bottom of the page
for the High Tier winners, Medium Tier winners, and Low Tier winners.
If you don't know what things are worth, or you would like to be surprised, you can request that we select a prize at random for you.
A huge congratulations goes out to
Nonexistent User
for being our top CP contributor!
September 8: Lottery

September 8th numbers have been drawn for the
Official Eclipse Lottery
:
06-11-16-17-18. Be sure to enter for the September 15th drawing. All the information on the lottery can be viewed
here
.
Join us for this week's lotto as we'll be adding in a surprise just for this week only!
September 8: Newspaper
The latest edition of the Eclipse Newspaper is now available!
Click here
to check it out!
The Eclipse Star wants YOU to join!
Click here for more info on how to become a Newspaper staff member!
September 8


PearlChikorita and PearlYanma are now available on
Eternal Garden
for
one month
! Thanks to
Nonexistent User
for making this happen on behalf of
fibromyalgia awareness
!
Furthermore, as the 35m CP goal was met, there is a brand new Secret Map Legend (SML) available to find for one month on that map! Good luck!
September 7

As the 10m and 20m CP goals were met, all one-time donations are now 20% off for the week! One-time donations include username changes, custom avatars, Pokemon ig picks, and sitewide boosts. For more information, check out the
Donations Guide
, and if you have any questions, feel free to
PM Cless
!
September 2
Many mine areas finally have beautiful map images designed by
Sigi
! The following areas have images:
Elera Mines
,
Raze Mines
,
Parena Mines
,
Masil Mines
, and
Tahile Mines
.
August 31: LegacyPoipole!


As the 7.5m CP sitewide CP target was reached, LegacyPoipole has appeared on
Mirage Ruins
! It will be obtainable until the Summer Event concludes. Thanks to
Nonexistent User
for designing the sprites!
August 30: Bring Back the Summer Event!

Out massive community-focused event has begun! During this event, you will find

CP
(Click Points) by searching the Legendary Areas, battling, and mining.
Every player's CP is tracked and tallied up to achieve site-wide goals, meaning every player's contribution counts! Generally speaking, 1 click earns 1 CP. However, there are special daily tasks you can partake in to earn extra CP. For example, today the daily task is to search on
Moon Gaze Mountain
—every search on that map will yield 1.5 CP!
If 20 million site-wide accumulated CP is reached, a final grand raffle will be unlocked for those who contributed the most CP!
For more detailed info, visit
the event Forum post
. Have fun working together!
August 24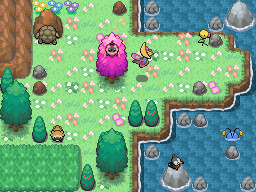 Fullmoon Island
has a brand new map image designed by DoctorJellystonesGay!
August 21: Feature Poll

Please
vote on this poll
if you have an opinion regarding what new or revamped features Pokemon Eclipse should have in the near future. Thanks for your vote!
August 21: Seillib Changes
Changes have been made to both Seillib and Shadow Seillib accounts!
Pokemon that are 200-299 IG have been moved from Seillib to Shadow Seillib, and can now be bought from there. Subsequently, there have been some changes to pricing for Shadow Seillib pokemon. For more information on trading with Shadow Seillib,
click here!
August 21
The
Plushies page
has new filtering/display options: Filter Color, Filter Rarity, and Show Amounts IG. This update should help you sort through your plushies & portraits!
August 16
Mewtwo's Cavern
finally has a new map image, thanks to DoctorJellystonesGay!
August 15: Daily Prize Update!





It's finally time!
Daily Prizes
have been overhauled entirely. You'll finally receive worthwhile prizes for logging on every day. Good luck!

As a part of this update, you'll find a new currency: Star Points! Star Points are a currency found exclusively by collecting Daily Prizes. In the near future, there will be a new shop added that offers some Seillib prizes in raffles. Stay tuned!
It's worth noting that Daily Prizes now reset at midnight Eclipse Time for every single player. You can find the current Eclipse Time on the right navigation under "Information". Eclipse Time is one hour ahead of Eastern Time (EST).
August: Exclusive Donator Avatars!


The Exclusive Avatar for August 2019 is the HyperOmegaCelebi set!
All donators who donate $25 or more in August will earn these avatars for free!
These avatars are permanently and automatically added to your
Avatar Collection
.
They are available for a month only, then they will be unobtainable!
Thanks to DoctorJellystonesGay for making the Shiny & Fabled variants!



Also, if you donate $50 or more during August, you'll get the
Shiny Primal Dog
avatar set!
Thanks to DoctorJellystonesGay yet again!
If you're interested in donating, see the
Donations Guide
for more details!
And feel free to
PM me, Cless
if you have any questions at all!
| | |
| --- | --- |
| News Comments: | Login To View |
| | |
| --- | --- |
| Date Posted: | August 15, 2019 |