News: October Update: New ??? Pokemon DNAs!
Old News Post
You are currently viewing an older news post. Click
here
to view the most recent news post.
October Update: New ??? Pokemon DNAs!
November 1

PearlHyperJirachi
has taken over
Newmoon Island
for 24 hours thanks to
Baddy
! Happy birthday
zokoo
and Ultimew
!!
October 31: Halloween Event Phase 1!

BOO! Happy Halloween!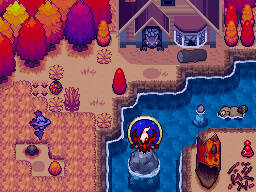 The mansion of horrors,
Hoopa's Haunted House
, has returned! Should you dare to enter, beware the trickery and debauchery of its inhabitants — word has it they don't take too kindly to humans. But if you're bravehearted enough, perhaps you can quell the horrors within and find some extremely rare Pokemon! Just make sure to prepare your will in advance. Just in case.

If you find
LegacyGenesisGhost
at
Hoopa's Haunted House
, exchange it for a spin of the grand Prize Wheel at the
Ultra Wormhole
! See the
Ultra Wormhole event page
for more details, or
click here
to preview the wheel.
If all goes well, we expect Phase 2 of the Halloween Event to be released in the next few weeks, so keep an eye out!
A big thanks to
F
l
u
f
f
,
D
r
V
e
g
a
p
u
n
k
,
Harold
,
Nonexistent User
,
Dev
, and
Pixel
for teaming up to donate for a bunch of the new releases on the event map!! A huge thanks also to
Nonexistent User
for creating much of the new artwork, and to
K
o
r
a
ʕ
•
ᴥ
•
ʔ
for her help organizing the event!
October 27

PearlRetroCyndaquil
is the special Pokemon on
Moon Gaze Mountain
for 2 weeks!
Eclipse Star 25 October Edition
The latest edition of the Eclipse Star is here!
Check out the new Eclipse Star by clicking here!
October 21: Rock Trade-In Swap!

RainbowZamazenta
is the new Exclusive Pokemon on the
Rock Trade-In
, thanks to
Nonexistent User
!

Furthermore, the regular top tier prizes on the Rock Trade-In have also changed! It now costs

50,000
rocks to acquire one of the top-tier prizes. A big thanks to
Iapetus
for donating for one of the new additions!
October 14

Welcome
benniken
to the art team as a Trial Artist!
We are still strongly considering new additions to the team so please
apply to be an artist
if you're interested!
October 13: Enigma Island Update!


In celebration of
LordHaunter
's birthday,
ShadowHyperGalaxyGastly
is haunting
Enigma Island
! Thanks to
V
i
k
a
l
u
for bringing this about, and thanks to
Nonexistent User
for the fabulous sprite!
October 10: Happy Birthday AwesomeGary and Family Man!


CrystalHyperBagon
and
RubyHyperBagon
have appeared at
Heatran's Mountain
thanks to
Nonexistent User
, and
GalaxyMagby
at
Groudon's Palace
thanks to
AwesomeGary
and
Family Man
! And make sure to wish
AwesomeGary
a happy birthday before his Birthday Ban!!
October 8: Clicking Quest!

The first-ever
Clicking Quest
has begun! From now until
November 7th
, players will have the opportunity to earn some fabulous prizes for completing quests! Please visit the
Clicking Quest event page
for more details!
A big shout out to
C
r
y
p
t
o
M
o
o
for making this happen, and congratulations on your 1-year Pokemon Eclipse Anniversary!
October 1: New ??? DNAs!
A new selection of Pokemon can be restored from all primary classes of ??? DNAs (maps, battles, mines) as well as from cbox DNAs! A big thanks to
K
o
r
a
ʕ
•
ᴥ
•
ʔ
for her help preparing this update!
Tip: ??? DNAs are a mysterious type of Pokemon DNA found randomly while searching the Legendary Areas, battling, mining, or chatting on the cbox. They can also be earned from Daily Prize chests. Visit the DNA Center to restore DNAs — you require 3 DNAs of a particular type to restore a Pokemon back to life.
October: Exclusive Donator Avatars!


The Exclusive Avatars for October 2021 are LegacyGalaxySpiritomb and LegacyHyperGalaxySpiritomb!
All donators who donate $25 or more in October will earn these avatars for free!
The avatars are permanently and automatically added to your
Avatar Collection
.
They are available for a month only, then they will be unobtainable.



Furthermore, if you donate $50 or more during October, you'll also receive
HyperAutumnPhantump
,
HyperSpringPhantump
, and
HyperWinterPhantump
avatars!
If you already qualify for the avatars, you should receive them automatically within three days! If not, please reach out to
★

Cless
. (You will get a PM once they're added to your avatar collection.)
If you're interested in donating, see the
Donations Guide
for more details!
And feel free to
PM me, Cless
or
K
o
r
a
ʕ
•
ᴥ
•
ʔ
(Kora) if you have any questions at all!
Eclipse star: 27 September Edition
The latest edition of the Eclipse Star is here!
Check out the new Eclipse Star by clicking here!
The Eclipse Star is also hosting the annual Pet Pageant. Click here for more information on how to enter!
| | |
| --- | --- |
| News Comments: | Login To View |
| | |
| --- | --- |
| Date Posted: | October 01, 2021 |